How to check website traffic with Google analytics?
Are you new to website development? Got your site live and want to see how people find your website? Google Analytics is a free tool by Google that lets you track your audience as a number of different channels can be used to visit your website by a user.
And you can track where they come from to see traffic sources for specific pages, marketing campaigns, and how people find your website.
In this article, we will show you how to track traffic on the website using Google Analytics. Let's start things off with.
[wpsm_titlebox title="Contents" style="1″][contents h2 h3][/wpsm_titlebox]
Why track traffic sources on the website?
As a marketer, knowing the source of your visitors has many advantages. There are some reasons to track your sources of traffic:
Better Understanding Your Visitors: Tracking traffic sources can help you identify the geographical location of your visitors and the channels they use, to better understand and provide targeted messages
Measure your marketing campaigns: If a driving campaign is built, you can measure its effectiveness by tracking various sources of traffic
Focus on best results channels: By identifying which channel is the best way of bringing visitors to your website, you can focus more on this to improve results.
Find new topics for the content: People from various channels may be interested in specific subjects so that you can find new content ideas by checking the traffic sources for each page
Identify on your site traffic gaps: You can see which channel does not work well to attract visitors, so you can optimize it because relying on a single source is dangerous for your website
Now, are you ready to see your traffic from your WordPress website?
How to check your traffic sources on WordPress?
Many users find it overwhelming when it comes to using Google Analytics. It requires coding to be installed on your WordPress site. Moreover, you must be an analytics expert to find the right report and to receive the information you need to make decisions.
But over time developers have made it easy to install & use Google analytics on WordPress. A lot of plugins have been made available like the official Google Site Kit plugin to simply add your new website to analytics and then track performance based on region, behavior, bounce rate, average time on a page/post, etc. Let's see how you can add your own site to your Google Analytics.
If you run a website, you may be relying on Google's analytics, performance testing, and more services. It can be difficult to manage all of them, so now there's a plugin called Site Kit for WordPress.
You can connect all of your favorite Google webmaster services to WordPress with the official Google Site Kit plug-in. Where applicable, you can also view data within your WordPress dashboard, such as Google Analytics statistics.
In this review, the Google Site Kit WordPress plugin will be examined more closely, what it has to offer and how it can be set up.
Let's dive in!
Site Kit is a plugin that enables you to connect your WordPress website with these six Google services:
Search Console. With Search Console, you can monitor your site's traffic, its performance, and indexing status.
Analytics. Google's popular web analytics tool provides you with massive amounts of data about your site's visitors, which is invaluable for marketing and optimization.
AdSense. If you want to monetize your website using ads, AdSense is one of the most popular platforms you can use to insert ads.
PageSpeed Insights. This tool enables you to test your website's performance. It returns an overall score, as well as a broad range of suggestions on how to improve your desktop and mobile experiences.
Tag Manager. This service enables you to add tracking pixels and snippets to your website without modifying code manually.
Optimize. With Optimize, you can run in-depth A/B tests for your website. It integrates with Google Analytics to give you better insights into results.
It is important to understand that Site Kit is not a substitute for any of the above services. Instead, the process of integration with WordPress is simplified. For example, if you haven't manually added Google Analytics to your website, you can use the site kit to add your tracking code.
Upon integrating your services, the site kit also allows you to access key metrics from within your WordPress dashboard. You can view your overall traffic, impressions, clicks, and goals with Google Analytics, for instance.
You don't need a plugin to connect any of them to your WordPress site, but the site kit makes it a lot easier. In most cases, all you have to do is click on some buttons to provide some permissions.
To really understand the value Google Site Kit provides for WordPress users, it helps to see it in action. Here's how to get it up and running for your site in a few simple steps.
Step 1: Install and activate Google Site Kit
Installing and activating Google Site Kit works just like any other WordPress plugin. Once it's active, it will prompt you to jump straight to the setup process:

Click on the Start Setup button to continue.
Step 2: Verify ownership of your website and connect Search Console
After you start the setup wizard, Site Kit will ask you to sign in using your Google account to verify ownership of your WordPress website:

You will then need to authorize a handful of permissions to let Site Kit access key data about your website and your Google account. Click on Allow for each prompt to continue: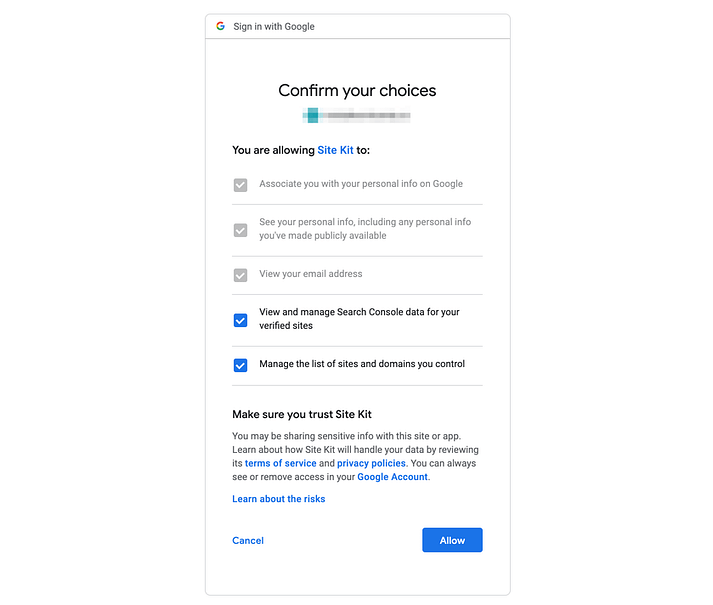 If you've already connected your WordPress site to Search Console, at this point Google Site Kit will automatically integrate it. Otherwise, you'll be prompted to set it up:

Click on the Add site button and Google will handle the rest. You'll then be ready to use the plugin: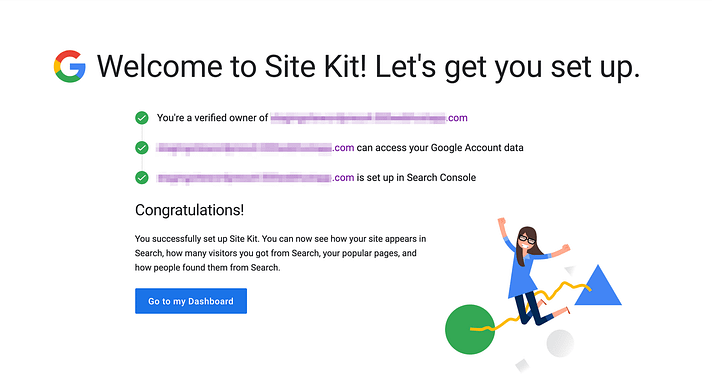 That's it for the basic setup process.
Step 3: Integrate your preferred Google services
Google Site Kit requires you to integrate Search Console with WordPress, but once you've completed the setup wizard you can customize which services you want to add. Right away the plugin provides links to connect AdSense, Analytics, and PageSpeed Insights:

If you'd rather wait to set up additional services, you can always do so later by navigating to Site Kit > Settings > Connect More Services: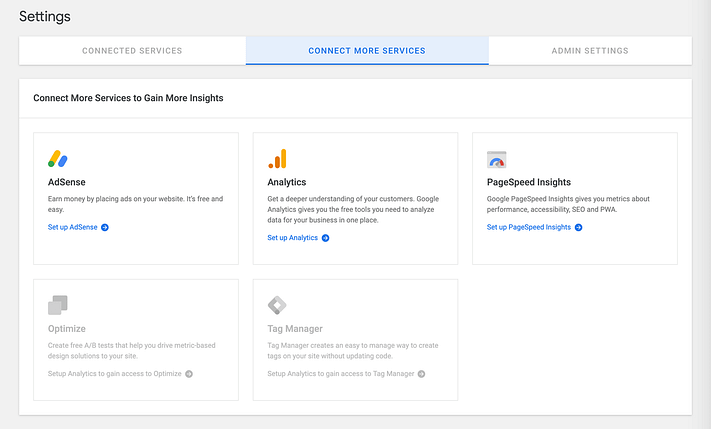 For each additional service, you'll need to confirm which account you want to use and authorize a list of permissions for Site Kit. If necessary, you can also connect your site to new tools right from your dashboard:

It only takes a handful of clicks and is much faster than adding a tracking code manually.
Step 4: View your dashboard and reports
Google Site Kit displays data in a few different ways. First, you can see an overview of all your services from Site Kit > Dashboard.
For services such as Search Console and Google Analytics, Site Kit has to collect data for a while before it shows you any numbers. We went ahead and connected PageSpeed Insights as well to show you how it displays results within its dashboard: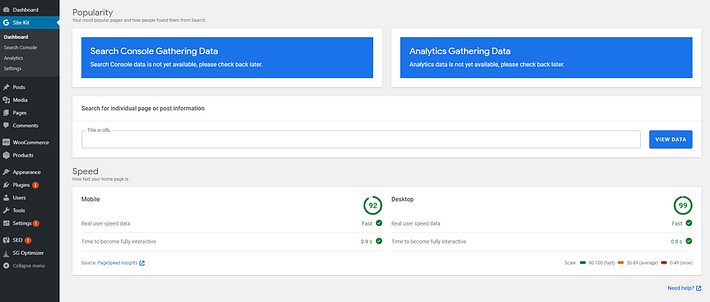 In time, your dashboard might look more like this: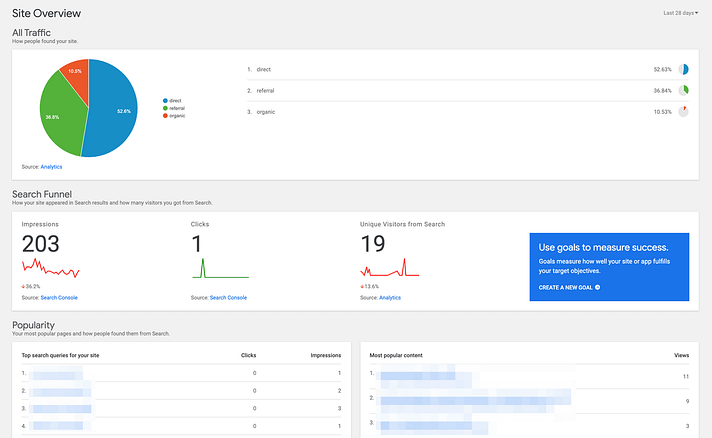 Your other option is to view separate reports for your services. Each will have its own tab under Site Kit in your WordPress sidebar. These summaries give you a bit more detail than the dashboard:
You can also filter by specific pages on your site, like only seeing the statistics for a certain blog post or testing the page speed of a specific page.
Is it worth your website using Google Site Kit?
Overall, not many bad things can be said about using Google's WordPress site kit. Up to now, it could be a little overcrowded if you only plan to connect one Google service.
If you plan to use several of them, however, the site kit is a great time saver. Moreover, it could not be easier to integrate. For example, in the case of PageSpeed Insights, it only takes one click.
The other positive thing is that Site Kit does not press you at any point to connect additional services. For example, if you want to use the Search Console only, you can do that without annoying pop-ups in your Analytics dashboard.
Moreover, Site Kit does not slow your loading time – it does not add new content beyond the basic scripts required to make a service function to the front end of your website (like the Google Analytics tracking script, which would still be there even if you opted to manually connect Google Analytics to WordPress).
One drawback is that it does not offer you the configuration options for the services you connect to. The Site Kit > Settings will show you if the plugin works, and give you the option to submit Google tracking data.
This is expected because the addition of individual settings for so many services could be a problem. If you use any of these tools for the first time, the lack of options can be confusing. To personalize your settings, you will need to visit each service individually.
Final Words.
If you want to integrate webmaster services with your website, Google's WordPress Website Kit greatly simplifies the process. During our review, we were able to connect all the tools that we wanted with simple wizards in minutes.
Overall, the site kit can be a valuable addition to your WordPress plugin range, particularly when you are using several services. That said, it does not replace the requirement to visit each service from time to time on the actual website. For example, you'll need to use the Google Analytics dashboard to access all the information while you're looking at your most important Google Analytics metrics from your WordPress Dashboard.
Comment if you need any further assistance.